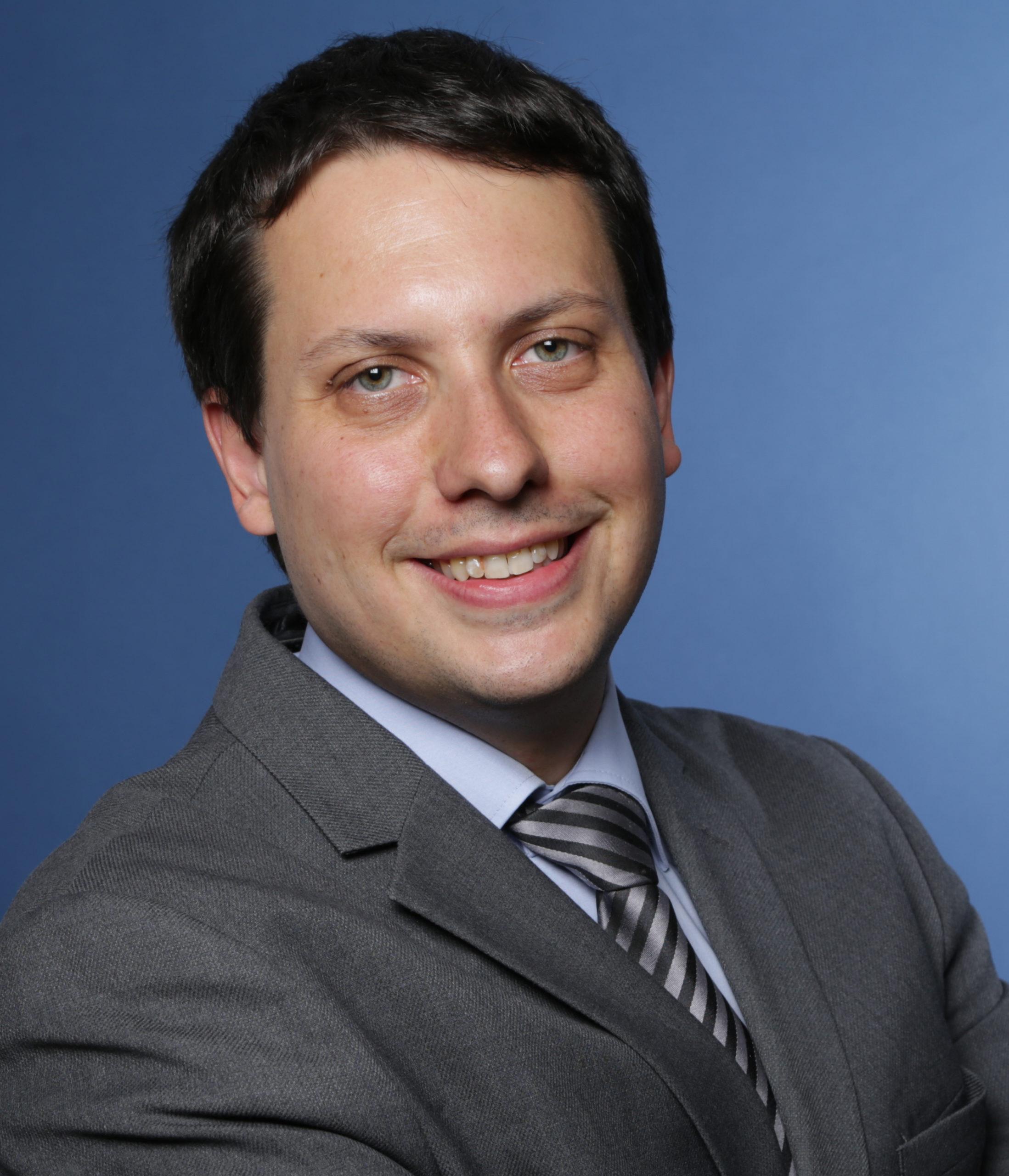 FH-Prof. Priv.-Doz. Dr. techn. Andreas Teuschl-Woller
Program Director Master Tissue Engineering & Regenerative Medicine
Research Focus Manager Tissue Engineering & Molecular Life Science Technologies
2020 | Venia docendi (Habilitation) at Technical University of Vienna
2008 –2012 | doctoral thesis "Chemical Engineering E 786 800" at Technical University of Vienna
2004 –2008 | diploma studies "Chemical Engineering E800" at Technical University of Vienna
Since 2019 | Head of research focus "Tissue Engineering & Molecular Life Science Technologies" at UAS Technikum Wien
Since 2018 | Head of Master studies "Tissue Engineering and Regenerative Medicine" at UAS Technikum Wien
Since 2017 | Founding and Chief Scientific Officer of Morphomed GmbH
2016 | Senior Researcher in FFG COIN Project "DiseaseTissue", Head of City of Vienna Competence Team Tissue Engineering Signaltransduction
2015 | Invited researcher in David Kaplan Lab at Tufts University (Boston, USA)
2007 –2012 | Ludwig Boltzmann Institute for clinical and experimental Traumatology als researcher / PhD student / "group leader"
Biomaterials
Tissue Engineering
Bioreactors
3D cell culture
Cell signaling
Chemical Engineering
Scientific Writing
Changes in Elastic Moduli of Fibrin Hydrogels Within the Myogenic Range Alter Behavior of Murine C2C12 and Human C25 Myoblasts Differently
Optimizing the Surface Structural and Morphological Properties of Silk Thin Films via Ultra-Short Laser Texturing for Creation of Muscle Cell Matrix Model
Occurrence of Lymphangiogenesis in Peripheral Nerve Autografts Contrasts Schwann Cell-Induced Apoptosis of Lymphatic Endothelial Cells In Vitro
Repopulation of decellularised articular cartilage by laser-based matrix engraving
Novel Human Placenta-Based Extract for Vascularization Strategies in Tissue Engineering
Enhanced BMP-2-Mediated Bone Repair Using an Anisotropic Silk Fibroin Scaffold Coated with Bone-like Apatite
Frequently Used Strategies to Isolate Extracellular Matrix Proteins from Human Placenta and Adipose Tissue
Advances in Laser Additive Manufacturing of Ti-Nb Alloys: From Nanostructured Powders to Bulk Objects
Crosslinking strategies for silk fibroin hydrogels: promising biomedical materials
Zoledronic Acid Substantially Improves Bone Microarchitecture and Biomechanical Properties After Rotator Cuff Repair in a Rodent Chronic Defect Model
Stiffness Matters: Fine-Tuned Hydrogel Elasticity Alters Chondrogenic Redifferentiation
Riboflavin-mediated photooxidation to improve the characteristics of decellularized human arterial small diameter vascular grafts
Optimization of hyaluronic acid-tyramine/silk-fibroin composite hydrogels for cartilage tissue engineering and delivery of anti-inflammatory and anabolic drugs
Riboflavin-mediated photooxidation to improve the characteristics of decellularized human arterial small diameter vascular grafts
Repopulation of an auricular cartilage scaffold, AuriScaff, perforated with an enzyme combination
Repopulation of an auricular cartilage scaffold, AuriScaff, perforated with an enzyme combination.
Smart Textiles in Wound Care: Functionalization of Cotton/PET Blends with Antimicrobial Nanocapsules
Substantial Biomechanical Improvement by Extracorporeal Shockwave Therapy After Surgical Repair of Rodent Chronic Rotator Cuff Tears.
Iodine-Enhanced Micro-CT Imaging of Soft Tissue on the Example of Peripheral Nerve Regeneration
Osteointegration of a Novel Silk Fiber-Based ACL Scaffold by Formation of a Ligament-Bone Interface.
Effect of fluid dynamics on decellularization efficacy and mechanical properties of blood vessels.
Hydrostatic pressure-generated reactive oxygen species induce osteoarthritic conditions in cartilage pellet cultures
Systematic in vitro comparison of decellularization protocols for blood vessels.
Structural insights into pH-responsive drug release of self-assembling human serum albumin-silk fibroin nanocapsules.
Acellular vascular matrix grafts from human placenta chorion: Impact of ECM preservation on graft characteristics, protein composition and in vivo performance.
A Low Cost Implantation Model in the Rat That Allows a Spatial Assessment of Angiogenesis.
Hydrogel composition and laser micropatterning to regulate sciatic nerve regeneration.
Low revision rate and excellent outcome of primary ACL repair with a minimum follow-up of 5 years.
An Effective Method of Atelocollagen Type 1/3 Isolation from Human Placenta and Its In Vitro Characterization in Two-Dimensional and Three-Dimensional Cell Culture Applications
Hydrogel Composition and Laser Micro-Patterning to Regulate Sciatic Nerve Regeneration
Silk fibroin based carrier system for delivery of fibrinogen and thrombin as coagulant supplements
Systematic Comparison of Protocols for the Preparation of Human Articular Cartilage for Use as Scaffold Material in Cartilage Tissue Engineering
A novel bioreactor for the generation of highly aligned 3D skeletal muscle-like constructs through orientation of fibrin via application of static strain
A new preparation method for anisotropic silk fibroin nerve guidance conduits and its evaluation in vitro and in a rat sciatic nerve defect model
Fabrication of silk mesh with enhanced cytocompatibility: preliminary in vitro investigation toward cell-based therapy for hernia repair
Decellularized human placenta chorion matrix as a favorable source of small-diameter vascular grafts
A Novel Silk Fiber-Based Scaffold for Regeneration of the Anterior Cruciate Ligament: Histological Results From a Study in Sheep.
Phototherapy With LED Light Modulates Healing Processes in an In Vitro Scratch Wound-Model Using 3 Different Cell Types
Extracorporeal shockwave treatment: A novel tool to improve Schwann cell isolation and culture
Comment on: In Vivo Evaluation of Electrospun Polycaprolactone Graft for Anterior Cruciate Ligament Engineering
Emerging Trends in Abdominal Wall Reinforcement: Bringing Bio-Functionality to Meshes
Regeneration of the anterior cruciate ligament: Current strategies in tissue engineering
In vitro extracorporeal shock wave treatment enhances stemness and preserves multipotency of rat and human adipose-derived stem cells
Shock Wave Treatment Enhances Cell Proliferation and Improves Wound Healing by ATP Release-coupled Extracellular Signal-regulated Kinase (ERK) Activation
Adipose derived stem cells respond to in vitro extracorporeal shockwave treatment with increased stemness and multipotency
In toto differentiation of human amniotic membrane towards the Schwann cell lineage
Enhanced cell adhesion on silk fibroin via lectin surface modification.
Bioreactor and scaffold design for the mechanical stimulation of anterior cruciate ligament grafts
Impact of mitochondria on nitrite metabolism in HL-1 cardiomyocytes
Articular cartilage tissue regeneration: current research strategies and outlook for the future
Sericin removal from raw Bombys mori silk scaffolds of high hierarchical order
Evaluation of cell response on permanent and pulsed atmospheric pressure stressed cells
Stimulation of ligament tissue formation on a silk scaffold with mechanical loading using a custom-made bioreactor system
Osteointegration of anterior cruciate ligament scaffolds fabricated of bombyx mori silk
Engineering of 3D Tissue Constructs Using our Novel MagneTissue Bioreactor as Alternatives to Animal Models
Regenerative silk ligament: scale up and regulatory strategy of a textile engineered silk implant for tissue regeneration of injured human ACL (anterior cruciate ligament)
Tailoring bioactivity of silk-based biomaterials via delivering and functionalization strategies with fibrinogen/thrombin, plant lectins or laminin
Anterior cruciate ligament regeneration using the silk-based RegACL scaffold
Evaluation of a novel hydrostatic pressure bioreactor on bovine cartilage chips
Shock wave treatment of muscle (stem) cells - a new implementation for regeneration
Silk as a versatile biomaterial for musculoskeletal tissue engineering
Naturally derived acellular small diameter vascular grafts from human placenta for reconstructive surgery
The effect of shock waves on in vitro cartilage development in silk scaffolds
Generation of aligned skeletal muscle-like tissue based on the application of strain to a 3D fibrin scaffold
The Silk Road from Textiles to Novel Medical Implants
ACL Regeneration using a novel silk fiber based scaffold - Histological Results of a Large Animal Study
Silk Processing - from Gels to ACL Replacement
Bioreactors in Musculoskeletal Tissue Engineering
Silk fibroin for peripheral nerve regeneration: a novel preparation method improved mechanical characteristics and supports regeneration in rat sciatic nerves
Shockwave Treatment Enhances Proliferation and Improves Wound Healing via Purinergic Signaling Linked ERK 1/2 Pathways
Shockwave Treatment Augments Proliferation and Improves Wound Healing via Purinergic Signaling Linked ERK 1/2 Pathways
Shockwave treatment activates Erk1/2 pathways predominantly via P2Y receptor involvement
Fibrin or Fibroin - Not only the "o" Makes the Difference
Regeneration of the Anterior Cruciate Ligament Using a Silk-Fiber Based Scaffold - Histological Results
A bioreactor-based 3D culture system for skeletal muscle engineering in fibrin scaffolds
Human Placenta Laminin-111 as a Multifunctional Protein for Tissue Engineering and Regenerative Medicine
Shock wave treatment of muscle (stem) cells - a new implementation for regeneration
Generation of aligned skeletal muscle-like tissue based on the application of strain to a 3D fibrin scaffold