The project aims to set up, test and validate the solution to perform laboratory activities remotely creating an overlap between online and traditional learning. During projects, practical experiences will be built to integrate theoretical lessons on renewable energy subjects at European universities in order to:
provide a more flexible accessibility to training opportunities thanks to ICT-based approaches, innovative tools and systems, i.e. Remote Laboratories, e-tivities etc. in order to allow students to acquire technical and transversal skills via hands-on experimentations to be performed in distance modality;
improve and modernise the delivery of on line and traditional courses creating more synergetic educational paths that combine innovative pedagogical approaches with the use of ICT tools and automatic control techniques for the remote access to educational activities;
ensure quality of the teaching and learning process through ICT-supported self-assessment activities based on a data mining system that allows a two way evaluation (from students' and teachers' perspectives) of the training path;
foster co-creation of knowledge and experience through the provision of inclusive, cross-sectoral and participatory educational approaches and innovative ICT-based solutions.
Eckdaten
Department Industrial Engineering
von April 2021 bis März 2023
FH-Prof. Ing. Momir Tabakovic PhD. MSc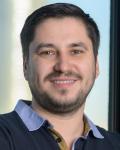 FH-Prof. Ing. Momir Tabakovic PhD. MSc
Kompetenzfeldleiter
Renewable Energy Technologies
Climate-fit Buildings and Districts
Senior Lecturer/Researcher