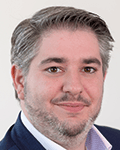 FH-Prof. Mathias Forjan, PhD, MSc, MBA
Managing Director Technikum Wien Gmbh
Mathias Forjan is Senior Lecturer and Researcher at the Faculty of Life Science Engineering and Head of the competence center "Medical Engineering & Integrated Healthcare" at the University of Applied Sciences Technikum Wien. He received his PhD in Electrical Engineering & Computer Sciences from the Universidade de Trás-os-Montes e Alto Douro in Portugal (2018), after his Bachelor and Master studies of Biomedical Engineering at the University of Applied Sciences Technikum Wien, Austria (2009, 2011). For three years, he was deputy program director of the Biomedical Engineering Sciences Master's program and coordinates the research projects in the research area " Data-Driven, Smart & Secure Systems " for the Life Science Engineering Department. In addition, his tasks include the coordination of international activities of the Life Science Engineering faculty. Mathias Forjan is an ISTQB certified Software Tester and former IHE Connectathon Monitor. He is a lecturer and trainer on IHE Connectathon, software quality management and software risk management. In the Biomedical Engineering (Bachelor) and Medical Engineering & eHealth (Master) courses, Mathias Forjan teaches medical device technology, ventilation technology and aerosol measurement technology. Within the competence center he is responsible for the topic of Applied virtual and augmented reality in medical & healthcare processes.
Immersive Spatial Planning in Healthcare: Developing a Pipeline to Automatically Convert Computer Aided DesignData to Virtual Reality
Extended Reality Solutions in Medical Context and Educational Approaches
Integration of Health and Public Transport Data to Enable Decision Support for Seniors to Reduce Risk of Infection with Communicable Diseases.
Characteristic Waveforms for Testing of Medical Aerosol Inhalers
Changes of particle deposition caused by different breathing patterns during active lung simulation
Changes of particle deposition caused by different breathing patterns during active lung simulation
Comparison of Mathematical and Controlled Mechanical Lung Simulation in Active Breathing and Ventilated State
Development of a Multi-Purpose Easy-to-Use Set of Tools for Home Based Rehabilitation
A Single Point of Contact Data Platform for Rehabilitative Exercises and Equipment
Evaluation of Wearable Multimodal Sensor Insoles for Motion-pattern Measurements in Stroke Rehabilitation – a Pilot Study
Actively breathing mechanical lung simulator development and preliminary measurements
Development of a multidisciplinary and telemedicine focused system database
Setting up a Virtual Test Environment for User Group Specific Practical Exercises in eHealth eLearning Courses
Entwicklung und Vorstudien zur Implementierung mobiler Rehabilitationssysteme im häuslichen Umfeld
Development of a Virtual Lab for Practical eLearning in eHealth
Development of Knowledge Profiles for International eHealth eLearning Courses
LUMOR: An App for Standardized Control and Monitoring of a Porcine Lung and its Nutrient Cycle
Development of the mCM - mobile circulatory module - for ex-vivo physiological tissue for breathing simulation
Certification Programs for eHealth - Status Quo
Education for eHealth - A Status Analysis
Organ Telemonitoring in Ex-vivo Nutrition Circulation of Porcine Lungs Using Interoperability Standards
Enhancements of a mechanical lung simulator for ex vivo measuring of aerosol deposition in lungs
Development of an Android App in compliance with the Continua Health Alliance Design Guidelines for medical device connectivity in mHealth
Mechanical eye model for the comparison of optical imaging quality and physiology of human vision
Experimental Evaluation of Dry Powder Inhalers During In- and Exhalation Using a Model of the Human Respiratory System (xPULM™)
Patient–Ventilator Interaction Testing Using the Electromechanical Lung Simulator xPULMTM during V/A-C and PSV Ventilation Mode
Electro-mechanical Lung Simulator Using Polymer and Organic Human Lung Equivalents for Realistic Breathing Simulation
Development and Usability Test of an Innovative Low-Cost Rehabilitation Game for the Upper Extremities of Neurological Patients
Applicability of IHE/Continua components for PHR systems: Learning from experiences
A Closer Look on Standards Based Personal Health Device Communication: A Résumé over Four Years Implementing Telemonitoring Solutions
Comparison of Mathematical and Controlled Mechanical Lung Simulation in Active Breathing and Ventilated State
Comparison of breathing patterns for aerosol inhalation using an electro-mechanical lung simulator
Lung simulation – an alterna� tive approach to animal testing for applications in aerosol and respiratory research
Development of a virtual environment for the rehabilitation of neurological patients
Evaluation of the feasibility of a partial weight-bearing supporting biofeedback system based on instrumented insoles and an Android application
Development of a Multi-Purpose Easy-to-Use Set of Tools for Home Based Rehabilitation
Interoperability Challenges - How to integrate medical devices
Rehabilitation at Home - a Device supported Approach
Interoperability in the OR Introducing OR.NET
Evaluation of an Active Lung Simulator for Aerosol Inhalation Test Replacement
Klinische Pilotstudie zur Prüfung der Machbarkeit und Akzeptanz eines Biofeedbacksystems zur Unterstützung der teilbelastenden Mobilisation
User Centered Design - Einbindung und Nutzung in Forschungsprojekten
Simulation Development of a Virtual Shopping Scenario via HTC VIVE for Neuropsychological Rehabilitation
Development and Usability Test of an Innovative Low-Cost Rehabilitation Game for the Upper Extremities of Neurological Patients
Evaluation of Wearable Multimodal Sensor Insoles for Motion-pattern Measurements in Stroke Rehabilitation – a Pilot Study
Reference Architecture and IT Standards for Integrating Medical Devices
Integrating medical devices in hospitals and at home: Challenges & potentials
eHealth Strategies on the Move: Researching State of the Art
Instrumentation of Timed-up-and-Go Test for Stroke Patients using Multisensor Insoles
Entwicklung und Vorstudien zur Implementierung mobiler Rehabilitationssysteme im häuslichen Umfeld
Setting up a Virtual Test Environment for User Group Specific Practical Exercises in eHealth eLearning Courses
Development of a Virtual Lab for Practical eLearning in eHealth
Development of Knowledge Profiles for International eHealth eLearning Courses
LUMOR: An App for Standardized Control and Monitoring of a Porcine Lung and its Nutrient Cycle
Development of the mCM - mobile circulatory module - for ex-vivo physiological tissue for breathing simulation
Education for eHealth - A Status Analysis
Ein Erfahrungsbericht über Kommunikationsstandards und deren Umsetzung im Bereich Telemonitoring: Vom Blutdruckmessgerät zur elektronischen Gesundheitsakte
A Closer Look on Standards Based Personal Health Device Communication: A Résumé over Four Years Implementing Telemonitoring Solutions
Development of an Android App in compliance with the Continua Health Alliance Design Guidelines for medical device connectivity in mHealth
Development of Internationalized Teaching and Training Modules for Healthcare Professionals
MedTech-mR - Creating a Virtual Enviroment for Medical Training and Room Planning
Current topics in Life Science Engineering lectures